Dear John,
We would like to wish all of our readers a Happy Thanksgiving this week. We hope you are enjoying a relaxing holiday surrounded by family, friends and good food!
Due to the holiday on Thursday, our only shipping days are Monday, November 19 and Tuesday, November 20 this week. We will not be able to ship on Wednesday, November 21 since FedEx is closed on Thursday. If you need product this week, we highly encourage you to place your order today, Sunday, November 18 at the very latest.
We were honored this week to see that we were in the running for Best Online/Food Product Supplier and Best Paleo Product-Food/Meat Category in the Paleo Magazine Best of 2012 Contest! If you have time to help our cause we would greatly appreciate it. Cast your vote here, it only takes a second and voting is open until November 30. We are very proud to be in the company of many other nominees that we respect so much and want to thank Paleo Magazine for this opportunity!
If you need help preparing your Thanksgiving turkey this week, be sure to check out our blog for thawing and cooking tips, as well as links to Thanksgiving dinner recipe ideas. For more Thanksgiving and everyday recipe ideas, cookbooks, and cooking tips be sure to visit our Pinterest page!
We appreciate your patience as we continue to restock some of our missing products. Most of our chicken parts, beef jerky, turkey jerky and seafood selections restocked this week, along with Beef Heart and Tri Tip Roasts. Our best-selling sugar-free pork bacon is still in stock, and be sure to check out our new sugar-free page on the website for more sugar-free offerings.
As we enter another holiday season, we would like to extend our thanks for another busy and successful year. 2012 has already brought many changes to our business and we appreciate your continued support and patronage. We truly enjoy what we do and are honored to be your source for quality grass-fed proteins.
Thankful Regards,
John, Lee Ann, Tressa, Jennifer, Amanda and Laura on behalf of the farm families of U.S. Wellness Meats





Recent Health News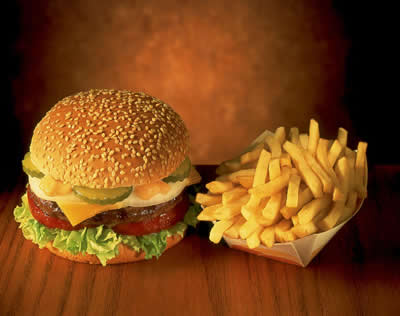 Fast Food Menu Options Double: Calorie Counts Remain High




With increased scrutiny over the past decade by the mass media and several legislative efforts by local governments, you might think fast food has come a long way nutritionally. But has it really?
You can now find some healthier choices on fast food menus such as oatmeal with fruit, fruit smoothies, side salads and grilled chicken sandwiches. However, a study led by Katherine W. Bauer, assistant professor in Temple University's Department of Public Health and Center for Obesity Research and Education, found that the average calorie content of foods offered by eight of the major U.S. fast food restaurants changed very little between 1997 and 2010.
In the study, results of which will be published in the November issue of the
American Journal of Preventive Medicine
, researchers analyzed menu offerings and nutrient composition information from leading fast food restaurant chains in the U.S. using archival versions of the University of Minnesota Nutrition Coordinating Center's Food and Nutrient Database. McDonald's, Burger King, Wendy's, Taco Bell, KFC, Arby's, Jack in the Box and Dairy Queen were chosen because they had been in the database since 1997, each has defined set of offerings on the menu and all standard menu items are included in the database.
One striking finding was a 53 percent increase in the total number of offerings - 679 to 1036 items - over 14 years across the restaurants. Specific fast-growing additions to the menus include the number of entree salads, which increased from 11 to 51, and sweetened teas, which went from zero to 35.
The study authors did not find any large changes in the median calorie content of entrees and drinks. A gradual increase in calories was found in condiments and desserts. Meanwhile, a decrease in the median calories of side items was observed - from 264 to 219 - which may be due to the addition of lower-calorie side salads and some restaurants limiting the portion sizes of side items like French fries.
In the last years examined, 2009 and 2010, lunch and dinner entrees had 453 calories on average per item while side items had 263 calories on average.
"You might order a lower-calorie entree, but then you get a drink, fries and a dessert," said Bauer. "Calories can add up very quickly. A salad can be low calorie, but not when it includes fried chicken and ranch dressing. Sweetened teas are just empty calories."
Eating fast food becomes a concern when someone eats too much of it too often. Studies have consistently found associations between fast food intake and excess weight and weight gain among adults. A recent survey of adults found that 80 percent purchased fast food in the past month and 28 percent consumed it two or more times a week. On a typical day, nearly 40 percent of teens consume fast food.
"We're not saying you shouldn't ever eat fast food, but you need to think about things like portion size, preparation method, condiments and the total caloric content of your meal," said Bauer.
In the near future, consumers will be able to see calories for all food items posted at restaurants and food vendors with more than 20 locations, as mandated by the Patient Protection and Affordable Care Act of 2010. McDonalds recently began posting calories on its menus.
"Using this study as a start, we'll be able to see if being required to post the calorie content of menu items - the primary aim of which is to inform consumers - prompts any changes by the fast food industry," said Bauer. "While some localities such as Philadelphia and New York City already require menu labeling, when the effort is rolled out nation-wide fast food restaurants may modify the calorie content of the foods they sell so consumers can see a smaller number on the menu board.
"Without massive changes by the fast food industry in the caloric content of food, the key is for consumers to try to educate themselves about calories and be aware that just because a restaurant promotes healthful options, does not mean that overall the foods sold are lower calorie," she said. "Over time, with increased exposure to calorie information on menus, people may start to understand how many calories they should consume each day."
Temple University. "Fast food menu options double: Calorie counts remain high." ScienceDaily, 13 Nov. 2012. Web. 14 Nov. 2012.

Ask the Doctor - Question & Answer Series

Dear Dr. Kim, I started a new job a few months ago which requires me to travel a lot. I've never really had a problem with jet lag before, but I've also never traveled this much. I know there is medication that can probably help, but I'm hesitant to start anything quite yet. Do you have any recommendations? Are there any certain foods I should be eating or something I should be avoiding to help ease some of these symptoms?

Best,
Ruth P.
________________________________

Dear Ruth,
Traveling is a hard thing to deal with when you are on an airplane all the time, traveling odd hours and trying to stay healthy. How does sugar make you feel? I use carbohydrates as a source prior to bed to help me go to sleep. It triggers serotonin levels in the brain and just really soothes me and calms me down. I think that you should give this a shot.
Keep your diet clean by taking out wheat and dairy during the times you travel. I think setting out a special time to exercise will also help with your hormonal levels that get disturbed by horrible traveling schedules. Try the carbohydrate trick prior to bed. Let me know how that goes. Don't go overboard and eat a whole extra large candy bar but try an apple, your favorite fruit juice in an 8oz glass, or even a small glass of red wine.
The other suggestion I have for you is taking some melatonin three days prior to traveling before you sleep. This will assist with your travels and get your body accustomed to the melatonin that you are consuming. Try it as a smaller dosage at first.
Thank You,
Dr. Kim
___________________________________


This is a friendly reminder to email health and wellness questions on any topic to eathealthy@grasslandbeef.com. Our question and answer series now also features Dr. Serrano's business partner, Dr. Mike Kim, MD. He is consistently eating and living a healthy lifestyle because of his family connection with DM2, HTN, Hyperlipidemia. He is currently finishing his training in Anesthesiology, Critical Care, and Nutrition at the University of Colorado, Denver under the tutelage of Dr. Serrano, a world renowned nutrition specialist.Dr. Kim is always seeking the latest and newest ways to help people with weight loss, athletic performance and healthy eating. He has a deep connection with MMA fighters, NFL athletes, and other professional athletes. He is at the forefront of breaking science with Muscle Pharm Sports Science and Research Center. His goal is to make living healthier for everyone, one meal at a time.
Primal Body, Primal Mind
Beyond the Paleo Diet for Total Health and a Longer Life

Respected health publisher Healing Arts Press of Vermont was thrilled to announce the publication of
PRIMAL BODY, PRIMAL MIND
by Nora T. Gedgaudas, CNS, CNT in the summer of 2011. Nora has a background in diet and nutrition spanning over 25 years and is a widely recognized, respected and sought-after expert in the field.
Presenting the physiological and nutritional perspective on trends like the paleo diet,
Primal Body, Primal Mind
explains the problems of grains, gluten, soy, dairy, and starchy vegetables and shows which natural fats promote health and which harm it. The author provides sustainable strategies to curb sugar cravings, promote fat burning and weight loss, reduce stress and anxiety, improve sleep and moods, increase energy and immunity, and enhance memory and brain function.
An active international public speaker and blogger, Nora is recognized by the Nutritional Therapy Association as a Certified Nutritional Therapist (CNT) and is also Board-certified in Holistic Nutrition ® through the National Association of Nutritional Professionals (NANP). Because of her expertise, Nora has appeared as a guest lecturer on radio and television and has been filmed for several documentaries. She was also host of her own radio program on Voice America Radio's "Health and Wellness" channel.
NORA T. GEDGAUDAS, CNS, CNT served as a trainer for the State of Washington Institute of Mental Health and has been honored as a key speaker at the Ancestral Health Symposium held at both UCLA and Harvard University, as well as the Paleo FX event at the University of TX in Austin. Additionally, Nora has been invited to speak at three different Universities in Australia, as well as other public appearances there. She was also a popular speaker at the Weston A. Price Foundation conference in Philadelphia, PA. She lives in Portland, Oregon.

Primal Body, Primal Mind received endorsements from David Perlmutter, MD of the renowned Perlmutter Institute of Neurology, Thom Hartmann, author of several books on ADD, including Hunter in a Farmer's World, the only ADD book ever accepted to the Smithsonian for its contribution to Medicine, Julia Ross, MA, author of The Diet Cure and The Mood Cure and Siegfried Othmer, Ph.D., co-author of ADD: The 20-Hour Solution just to name a few.

Recipe Corner
Autumn Grilled Chicken Spinach Salad with Warm Bacon Vinaigrette

Ingredients:
1 1/2 lbs chicken breasts
1 lb fresh spinach
1 lb bacon
1 red onion, cut in half and sliced
2 sweet potatoes or 1 small butternut squash, cut into 1 inch pieces
2 apples, diced
1/2 cup pomegranate arils
1/4 cup toasted pumpkin seeds
salt and pepper
1 tsp cumin
2-4 T olive oil, divided
Simple Balsamic Marinade:
2 T balsamic vinegar

salt and pepper

1 tsp minced garlic
Directions:
Salt and pepper your chicken and make the marinade by combining the balsamic vinegar, olive oil, and garlic. Pour the marinade over the chicken and toss to coat. Let marinade for at least 30 minutes up to one day.

Preheat oven to 400 degrees. Toss the butternut squash/sweet potato pieces with salt, pepper, cumin, and 1-2 T olive oil until well coated. Bake for 30 minutes.

While the squash is in the oven, fry, grill, or bake the chicken until done.

Meanwhile, fry your bacon in a large skillet. Once the bacon is done cooking, take it out of the skillet, but leave all the bacon fat in there. Cook the onions and apple in the skillet with the bacon fat until the onion is no longer raw, about 2-3 minutes. Remove from heat and whisk in 1 T olive oil.

Place your spinach in a large serving bowl. Add in the warm butternut squash, bacon, pomegranate arils, toasted pumpkin seeds, and the onion apple mixture with the bacon dressing from the skillet. Toss to coat the spinach. Add in the chicken breasts. If you are serving a crowd, I would cut the chicken into strips and mix into the salad. When we ate this, I tossed everything together and then added a whole chicken breast per serving right on top of the salad. Enjoy!
___________________________________
Recipe and photo compliments off Primally Inspired an excellent resource for both primal fitness and primal recipes. For more paleo-friendly recipe ideas be sure to visit their website.
If you are a blogger or food artist and would like to see your recipes published simply email them to recipes@grasslandbeef.com.
Missouri Pork
A few more shots of our pigs from recent farm tours!
Change Customer Information
Need to change your contact or credit card information? Just
click here
. After opening, enter your email address and store password and you will be able to edit your customer file. If you have any issues
contact us
anytime.
To see your past order history
click here
.

To unsubscribe from the email please scroll to the bottom of the page and click the SafeUnsubscribe link.
About U.S. Wellness Meats
U.S. Wellness Meats was founded on
September 1st, 2000. Pasture management and meat science research originated in 1997.
The company office is located in Monticello, Missouri in Lewis County which joins the Mississippi River 140 miles North of St. Louis.
The company has branched from
beef products
into:
Grass-Fed Lamb
,
Compassionate Certified Pork
,
Poultry
,
Wild Caught Seafood
,
Grass-Fed Bison
,
Grass-Fed Butter
,
Raw Grass-Fed Cheese
,
Raw Honey
,
Gourmet Rabbit
,
Wholesale Packs
,
Nutraceuticals
,
Pre-Cooked Entrees
,
Snacks
, and
Pet Food
.
Confidentiality Guarantee
We at U.S. Wellness Meats do not sell, trade or give away any subscriber information. This isn't just an ethical commitment, it's also a legal one.
Copyright © 2009 by U.S. Wellness Meats. All rights reserved. The content, design and graphical elements of this newsletter are copyrighted. Please secure written permission of the author before copying or using this material. Address:
Toll Free: (877) 383-0051
On Sale!
The following delicious sale items will expire at 10 PM CST Saturday November 24, 2012.
- 6 oz
- 1.5 lbs
- 8 oz
- 85 grams
- 8 oz
Vanilla Vital Whey Protein Powder
- 1 bottle
- 6 oz