Dear John,
As we are sending this week's edition, we are busy at the
Weston A. Price convention
in Dallas, TX. We are surrounded by people who love food as much as we do! Thank you to everyone who has stopped by our booth to sample
organ sausages
,
pemmican
and
beef jerky
. If you weren't able to make the trip to Dallas this year, we've got one of the Weston A. Price favorites
on sale
this week -
Beef Braunschweiger
. This is the tastiest way to add liver to your diet, add a slice of
raw cheese
and it is a great snack or an easy lunch!
It is hard to believe Thanksgiving is less than two weeks away - which means if you have not ordered your
turkey
yet now is the time to do it! We strongly encourage all Thanksgiving orders to be placed before 10:00 CST this Wednesday, November 16 to ensure delivery this week. We will still ship next Monday and Tuesday, however if you are planning on ordering a turkey please remember to allow time to thaw it out before Thanksgiving. Whether you are cooking
turkey
,
chicken
or
ham
this holiday season, check out our
November to Remember
page for unique recipes and cooking ideas!
With Thanksgiving upon us it means Christmas is right around the corner. We have begun receiving calls about corporate giving already. If your company or business wants to send a gift that is sure to be appreciated by employees or clients, send the gift of good health with a box of heart-healthy
steaks
,
chicken
or
fish
. For more gift giving ideas, we've got
gift certificates
and some great
new cookbooks
that make perfect stocking stuffers!
With the holidays come the temptation to overindulge - at family dinners, work parties and other holiday events. For some easy tips and tricks to avoid the holiday weight gain, be sure to check out
Kelley's helpful article
below. Then read on as
Scott Mendelson
explains how you can actually burn fat during the holiday season instead of gaining.
We are excited to feature one of our favorite chefs this month -
Executive Chef Keith Armstrong
is our
feature chef
and has graciously offered us some of his best cooking tips and shared an amazing recipe for
Turkey Leg Roulade
. You may recognize Chef Armstrong from one of our
backyard barbecues
, or from his
Tenderloin Wellington
recipe, both videos are on our
YouTube Channel
now!
Lots of restocks this week! We apologize for the extended shortages on so many popular items, our meatcutters have been working overtime to try and keep up with demand. This week we have restocked
Marrow Bones
,
Beef Franks
, and the popular
Flank Steaks
, among others. See the
Breaking News
section below for more details.
We hope all of our Veterans received the recognition they deserved last Friday on Veteran's Day. We were happy to share some of our favorite military organizations with our
blog
readers this past week, check out the
blog
if you missed it!
Things are certainly picking up around our office this time of year, stay up-to-date with all of our holiday sales, specials, new recipes and meal ideas on
Facebook
!





Breaking News
Restocked This Week:
New Products:
15% Discount Code Available!
Don't forget to look for the special promo code for a one-time-only 15% discount off your next purchase. The eight letter code word can be found in Dr. Al Sears' article and will be spelled in order. Code will be active Sunday through Tuesday this week.
This code only applies on orders weighing under 40 pounds and excludes all sale items, bulk boxes, volume discounts, and gift certificates. Your order receipt will not show a credit, the code simply changes prices of individual products on your receipt page. Compare receipt to retail store prices to see the discount.
_______________________________________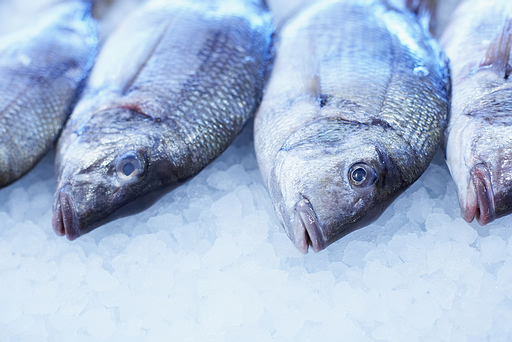 Farmed Fish Fed Vegetable Matter May Have Residual Pesticides




Today, half of all the fish we eat comes from fish farms. The problem is that these fish are increasingly being fed vegetable matter, which could lead to a build-up of residual pesticides in them. A new test shows how high the risk of contamination really is.

People are eating more and more fish. To meet rising demand, fish are increasingly being cultivated in fish farms. Aquaculture is the fastest-developing branch of the global food industry, with annual growth of nine per cent. This rapid rise is also pushing up demand for fish feed, producers of which are facing a formidable challenge, because the supply of fishmeal and fish oil - important ingredients in feed - is dwindling. They are set to be replaced by crops such as soya, maize and rape, but the trouble with these is that feed pellets made from them might contain pesticides.

To protect consumers, there has to be a way to test fish bred in captivity for pesticide residues, but this has not been possible up to now. While techniques known as metabolism studies are already used to test how the active ingredients in pesticides accumulate and break down in ruminants, poultry and pigs, these techniques are not suitable for use with fish. Germany's Federal Office of Consumer Protection and Food Safety has let it be known that urgent action is required. Now scientists at the Fraunhofer Institute for Molecular Biology and Applied Ecology IME in Schmallenberg have developed a system to test whether chemical substances accumulate in fish that are fed contaminated feed.

"First, we test whether ingestion of the feed leads to a build-up of pesticide residues in fish tissue, and we look to see which degradation products or metabolites result from the fish's metabolic processes. Essentially, the more fat-soluble a substance is, the higher the probability of it accumulating in fish," explains Dr. Christian Schlechtriem, a scientist at the IME. "Our tests form the basis for later studies on feeding. The results determine whether these subsequent studies, which ascertain maximum pesticide residue levels, are required."

For their metabolism studies the researchers use water tanks that are two cubic meters in size. Into these tanks they place carp and rainbow trout each weighing 300 to 500 grams; both these freshwater fish are frequently bred in farms. To detect and identify pesticide residues and their metabolites, Schlechtriem and his team add a radiolabeled test substance to the pellet feed - a challenge for the researchers, as radiolabeled material is difficult to handle under aquatic conditions. A powerful filtering system prevents the dissolved test substance from accumulating in the water. The researchers then test the flesh of these fish for pesticide residues using highly sensitive analytical methods which permit even the smallest quantities of a substance to be detected with certainty. Dr. Dieter Hennecke, head of the IME's ecological chemistry department, says: "Our new test leaves no stone unturned in the search for pesticides and their degradation products in fish - from breeding through to tissue analysis in the laboratory."

In autumn 2011, the European Commission will publish new data requirements for fish as part of the approval process for pesticides. These will oblige every producer and importer who intends to bring a new pesticide onto the European market not only to register it but also to provide information proving it cannot accumulate in the edible parts of fish. The fish test developed at the IME will supply the information required.

Source:
Fraunhofer-Gesellschaft. "Farmed fish fed vegetable matter may have residual pesticides." ScienceDaily, 8 Nov. 2011. Web. 9 Nov. 2011.
Dr. Al Sears, M.D.
It is Not Vitamin A, It is Not Beta Carotene...
And It's Not the Next One They'll Come Up With -It's Back To Nature
By: Al Sears, MD
Dear Health-Conscious Reader,
First, Elmer McCollum couldn't get a job.
He had a doctorate from Yale, but couldn't find work in his field. It was only after a long time searching all over the Midwest (he was from Kansas) that he even got hired.
The University of Wisconsin took him on as an instructor. But he had to switch his field of study because that was the only way he could get a position.
Then, the school wanted him to look at the diets of grain-fed cows to find out why they were dying or giving birth to malformed calves.
After all, grain contained everything that chemists, physiologists, and medical men considered essential...even though it was obviously not enough to sustain the cattle's lives.
But McCollum felt the cows weren't getting enough nutrition from grain. He had to go against convention and the people who wouldn't listen to him to find his answer. He stopped doing cattle research and set up his own lab to study nutrition in smaller animals.
It took him more than two years, but in 1913 he discovered what he called "fat-soluble A." You and I call it vitamin A.
But that's not the reason I'm telling you this story. The reason I want you to know about this is because this is still happening today.
Scientists and conventional doctors still don't recognize what's important for nutrition...
Read More...
_____________________________________________


Editors Note: Dr. Al Sears, M.D. is a board-certified clinical nutrition specialist. His practice, Dr. Sears' Health & Wellness Center in Royal Palm Beach, Fla., specializes in alternative medicine. He is the author of seven books in the fields of alternative medicine, anti-aging, and nutritional supplementation, including The Doctor's Heart Cure. To get his free special report on the proven anti-aging strategies for building a vibrant, disease-free life, go here now. You'll learn how to stop Father Time without giving up the foods you love.


______________________________________________
Kelley Herring
Seven Simple Strategies for Staying Healthy Through the Holidays
By: Kelley Herring
It's the holiday season. And that means family dinners, cocktail parties, and lots of festive fare. But while the season is a welcome and celebratory time, it is all too easy to overindulge.
Besides sticking to your exercise regimen and getting adequate rest, a little planning and sound nutritional strategies can help you stay healthy through the holidays...and maintain your weight to boot.
Holiday Health Strategy #1: Keep Your Hormones Balanced
Stuffing with gravy. Mashed potatoes. Pumpkin pie.
Foods rich in refined and high glycemic carbohydrates spike your blood sugar and put your body on a hormone roller coaster, triggering more hunger and more eating.
But you can avoid this vicious cycle by focusing your holiday plate on lean proteins (including organic poultry, wild fish, and grass-fed meats), healthy fats (like nuts and olive oil), and nutrient-rich veggies (especially leafy greens and crucifers).
And beware of the refined carbs lurking in not-so-obvious places - like sauces and gravies made with white flour or "healthy" fruit salads with sugary dressings and jello with canned fruit.
Holiday Health Strategy #2: Beware of Hidden Hydrogenation
Flaky-crusted appetizers and buttery pies piping hot from the oven are tempting. That is, until you find out they're loaded with trans-fats!
Unless you made the dish yourself, err on the side of caution and assume the baked goods being served are of the store-bought variety (and therefore contain partially hydrogenated oils).
If there's any food to avoid during the holidays, it's the puff pastries and pies. Reach, instead, for whole foods like shrimp cocktail, crudites, and baked sweet potatoes, or offer to bring a healthy, homemade, low glycemic, gluten free dessert to the feast.
Holiday Health Strategy #3: Scope out the Feast First
With a large spread, and dozens of delicious dishes to choose from, it's tempting to grab a big plate and sample everything the host has to offer.
A good strategy is to scope out the buffet line first and choose the items you'll be having (opting for the roasted Brussels sprouts instead of the creamy casserole, of course). Then, when it's time to dine, opt for a small plate to help keep portions (i.e., calories) under control.
Holiday Health Strategy #4: Don't Fall Victim to Liquid Calories
While most cocktails have around 150 calories, festive sips (like traditional egg nog, spiked punches or alcoholic hot cocoa drinks) can pack a whopping 300 calories and more than 20 grams of sugar.
Because your body doesn't register liquid calories the same way it does calories from food, it's all too easy to keep sipping those calorie-laden cocktails without triggering a feeling of fullness. But it's not just the calories that cause concern...
_____________________________________________
Ed. Note: Kelley Herring is the Founder and Editor of Healing Gourmet - the leading provider of organic, sustainable recipes and meal plans for health and weight loss. With the holidays approaching, if you wonder how you can enjoy your favorite sweet treats and still maintain the low-glycemic, high-protein diet you need for a lean, healthy body, then click here to download your FREE copy of Fat Burning Baking and to learn more about Guilt-Free Desserts, the world's leading resource for making healthy, delicious, low glycemic desserts!
_____________________________________________________
Dr. Eric Serrano MD, MS, BC


Dr. Serrano,

I want to inquire about your Alpha Omega 3 product. I have been using for several years an omega 3 called Omegabrite developed to help the brain. I have OCD/depression and was on the max of Zoloft and was able to switch almost completely to this omega 3 for major depression.

Could your product help me as Omegabrite has? I'm asking because twice within the past several months, the product has been backordered because they cannot keep up with the demand - this puts me into a panic as I need it desperately. Also, the amount I have to take is quite expensive.

From what I've researched on Omegabrite, it is a very good quality as I'm sure yours is but I'm wondering if I switch, how much of Alpha Omega 3 would I need to take compared with Omegabrite? I take between 4-6 grams a day and it has 90% concentration of omega 3.

The omega 3 is virtually a lifesaver to me for horrible depression so it is extremely necessary. I will be so grateful for your answer.

Thank you,
Peggy


______________________________________________________

Dear Peggy,

Alpha Omega-3 contains more than just fish oils. The big deal about Omegabrite is supposedly the ration between EPA and DHA, which in reality is a problem because you must look at all the fats to come up with a real ratio. Alpha Omega-3 has CLA, GLA, olive oil, fish oils, alpha linolenic acid and avocado oil because the needs of the brain not only include fish oils but also monounsaturated fats in high quantities, which Alpha Omega-3 provides. Based on what you are doing and your needs I would say you need about four tablets of Alpha Omega-3 to keep you up to your standards.

When I created Alpha Omega-3 I wanted a natural food source for all the fats not just one type, because we need all of them. To do that I had to add CLA, olive oil, avocado oil, borage oil, and flaxseed oil to the fish oils, etc, and it has worked incredibly well. We have never advertised, the oils are popular because they work and people talk about it how they feel about their joints, feeling better overall, less down, etc, but again if Omegabrite is making you feel well I wouldn't change a thing. Peggy remember you must also change your diet, and make sure you exercise.

Good Luck,


Dr. Serrano
___________________________________________

This is a friendly reminder to email health and wellness questions to eathealthy@grasslandbeef.com for the Dr. Serrano question and answer series. Answers will appear in future issues of the weekly newsletter under your first name only. Dr. Serrano has been so kind to offer his expertise to any question involving health and wellness.

Dr. Serrano has advanced degrees in nutrition, kinesiology and wellness and has a wealth of knowledge from both his farm background, 15 years of clinical experience, and as an award-winning professor at Ohio State Medical School. Dr. Serrano has an outstanding family practice on the outskirts of Columbus, Ohio and works with a select group of professional athletes.



Athlete Corner - Scott Mendelson Q&A

By: Scott Mendelson
Scott,
We have a beach spot vacation (St. Thomas) coming up at the start of the New Year to get ready for and we know the holiday season will be a big challenge with all of the tempting food around! Can my husband and I lose 10- 15 lbs of fat between now and then? I have seen your comments on interval sprints, but I am not able to run outside this time of year due to the weather. What are other exercise modes can be used besides running? We eat a good diet, at least compared to the average person which I know is not saying much. Any help you can provide with nutrition would be great as we both are lacking a concrete plan.

Lisa
Indianapolis, IN
____________________________________________
Lisa,
You are very smart to get on board with an effective plan ASAP as November and December can be disastrous for most people. I estimate the average American adult packs on 10-15 lbs of body fat during November and December not only due to holiday eating, but also lack of activity. The holiday meals in themselves are not the major source of body fat accumulation, rather the extended periods making bad food choices from leftovers, holiday parties, etc.
Changes in weather reduce activity for many people who then put off any goals until the New Year thinking they will "maintain" through the end of the year. This never happens as people either get better or significantly worse during this time period with no middle ground. Dr. Serrano and I put together a great set of tips for avoiding holiday body fat accumulation. Email Scott@infinityfitness.com to have it sent to you now. So get on track with a plan to prevent problems before they arise.
Yes - interval sprints with a variety of venues is a ticket to rapid rates of body fat loss. Steady state cardio is the choice of many since it requires very little effort, but those who take these walks to nowhere are wasting their time in a majority of cases or actually increasing the rate of body fat storage. Eating "clean" is not enough to get to a low level of body fat. There must be a strategy in place to force the body into using more stored fat as fuel. There is no shortage of people who make good choices, but very few make use of a strategy to fit their needs and goals- as a result they fall short of goals 100% of the time. Yes, we can employ strategies to help you burn off 15 or more pounds of body fat in a 30 to 60 day period if all of the cards are played correctly.
Below is a sample interval session done on a recumbent bike, which I find is a great way to start with an interval program...
_____________________________________________
Fat Burning Special Reports
Email scott@infinityfitness.com to discuss your questions, unique needs and goals seven days per week. Request a complimentary copy of the Preventing Holiday Body Fat Accumulation Cheat Meal File, Macronutrient Cycling and Fat Cell Cleansing Fat Loss Special Reports, and the 10-minute Fat Burning Interval Cardio workout.
____________________________________________
Infinity Fitness INC provides training, fitness, and nutritional information for educational purposes. It is important that you consult with a health professional to ensure that your dietary and health needs are met. It is necessary for you to carefully monitor your progress and to make changes to your nutritional and fitness program to enjoy success. Infinity Fitness does not employ dietitians or health professionals and assumes no responsibility or liability for your personal health and condition. For more information regarding our Limited Warranty for products and services, please see our disclaimer at InfinityFitness.com. Copyright © Infinity Fitness INC All Rights Reserved 2010
This document is provided by Infinity Fitness INC for general guidance only, and does not constitute the provision of health or fitness advice. The information is provided "as is" with no assurance or guarantee of completeness, accuracy, or timeliness of the information, and without warranty of any kind, express or implied, including but not limited to warranties of performance, merchantability, and fitness for a particular purpose.
Email new questions for Scott Mendelson via:
eathealthy@grasslandbeef.com
Customer Feedback
Dear Grassland Family,
I have not eaten bacon in years for various reasons, but after perusing the products on your website I ordered the
beef bacon
.
It is the most delicious bacon I have ever eaten. It is so good, that after having two slices with some eggs for breakfast, I had to have another two slices. It took the utmost willpower not to eat the entire packet. I will be placing another order soon, but this time, it will be for the
8 pound box
.
I will be telling all my friends and family about this delicious
bacon
. Most of them have no idea such a product exists. By the way, thanks for sending my order so quickly. I love it.
JB
Brooklyn, NY
Recipe Corner
Lemon Garlic Shrimp over Cauliflower Mash
Shrimp Marinade:

Cauliflower Mash:
1 head of cauliflower, cut into large-ish florets
6-8 cloves garlic, peeled
Kosher salt and freshly ground black pepper, to taste
1/2 cup Parmesan cheese, freshly grated
(optional) half and half or cream / or broth, if needed to correct consistency
Lemon Garlic Shrimp:
Marinated shrimp (from above)
6 cloves garlic, minced
2 slices bacon
2 tablespoons butter (grass-fed)
1/2 cup white wine, or bottled clam juice
1/2 sweet onion, thinly sliced
1 teaspoon crushed red pepper flakes, or to taste
pinch or two of dried oregano
Juice of one lemon
Kosher salt and freshly ground black pepper, to taste
2 tablespoons fresh oregano, chopped
Directions:
First, mix up the marinade ingredients for the shrimp. Put the shrimp and the marinade in a resealable bag, mix it up well so all the shrimp have some marinade on them, and refrigerate for 1-4 hours.
Preheat an oven to 400F. Place the cauliflower and garlic in a shallow roasting pan. Toss with enough olive oil to coat the pan and the vegetables. Season lightly with salt and pepper. Cover loosely with foil, and roast for 15 minutes.
Remove foil, and shake to mix up the vegetables for more even browning. Roast uncovered for 15-20 minutes, or until cauliflower and garlic are soft and lightly browned. Remove from oven.
Using a food processor, puree the cauliflower with a couple tablespoons of butter (or more). Add the Parmesan cheese and mix well. You want to end up with the cauliflower having the consistency of mashed potatoes or grits (fairly thick, not runny). If needed, add a drizzle of cream or broth if the cauliflower is too dense. Adjust seasoning with salt and pepper. Place in a heat-proof bowl and keep warm.
In a large saute pan or Dutch oven, cook the bacon until crisp. Set aside on paper towels until cool, then chop into small pieces. Set aside.
Add two tablespoons of butter to the bacon drippings in the pan, and heat until melted over medium high heat. Add the onion and cook until softened. Add the minced garlic, red pepper flakes, and oregano, and saute for about a minute, stirring frequently. Stir in wine. Cook until liquid is reduced by half (will only take a few minutes), then add the shrimp.
Cook, stirring frequently to turn the shrimp, until shrimp are pink and opaque on both sides. This should only take 3 or 4 minutes; do not overcook the shrimp or they will be rubbery!
Stir in the lemon juice and remove from heat. Season to taste with salt and pepper.
Serve the shrimp and sauce over the mashed cauliflower. Garnish with chopped bacon and fresh oregano.
Recipe and photos courtesy of She Cooks He Cleans. For many more gluten-free recipes and cooking tips visit their blog!
October Sunshine - US Wellness Farms

Purchasing Rules & Discounts


US Wellness requires a $75 minimum purchase and a 7 lb total order minimum.

The weight minimum is to help ensure everything stays frozen during transit and the price minimum is required since we have built the cost of shipping into the price of the product. You will only see a $7.50 handling fee at checkout.

The South Carolina Chicken Bundles, Olive Oil and cookbooks ship from separate locations, so they are not included in the 7 lb weight minimum. The shopping cart will keep track and remind you if your order is under the 7 lb limit.

Weight Discount

On your next order, receive a $25 discount for every 40 lbs you order. This offer excludes items that ship separate such as the South Carolina Chicken and Olive Oil.



This is our way of saying thank-you for purchasing in bulk! This can be any combination of products totaling 40 pounds and does not have to be specific to any category. Each 40 lb interval will yield the discount. For example, 80 lbs of product will yield a $50 discount and a 120 lb purchase will yield a $75 discount.



Customer Change Contact Info Link
Need to change your address information or remove yourself from our customer newsletter? Click here. After opening, enter your email address and store password and you will be able to edit your customer file.


________________________________________________





Confidentiality Guarantee:


U.S. Wellness Meats does not sell, trade or give away any subscriber information. This isn't just an ethical commitment, it's also a legal one.

Copyright © 2009 by U.S. Wellness Meats. All rights reserved. The content, design and graphical elements of this newsletter are copyrighted.

Please secure written permission of the authors before copying or using this material. Address: eathealthy@grasslandbeef.com

Sincerely,
John Wood
U.S. Wellness Meats
Toll Free: (877) 383-0051