Dear John,
We had our first frosts of the season early this week here in Northeast Missouri. After the record-setting summer we had we can't complain about cooler weather, even though it seems to be coming on earlier than usual!

Turkeys are here! As hard as it is to believe - Thanksgiving is right around the corner. Luckily we've got plenty of Organic, Free Range Turkeys in stock and ready for your dinner table. Sizes range from 10-22 pounds, so there should be something for everyone! Not having turkey this year? Prime rib or pork loin also make an excellent family meal!

National School Lunch Week kicks off tomorrow, October 15 and runs through October 19. This week is as important as ever this year, in light of the recent menu changes imposed by the Healthy Hunger-Free Kids Act. The feedback from this new legislation has been all over the board, but the majority of what we've heard makes it clear that kids are hungry, portions are not divided fairly, and there is not enough protein on the plates. This is the week to speak up and voice your opinions. There are many ways to enforce change - a group of Kansas students and administrators, for example, made a YouTube clip that has been viewed by almost one million people and there have been many student protests started around the country. A new bill, the Hunger Free Kids Act, has been introduced to the House and would repeal the current legislation that caps the amount of calories allowed on lunch trays. We will continue to watch this legislation and keep you updated on its progress. If you have any comments or feedback please visit us on Facebook or drop us an email!

A great option for family dinners got cheaper this week - the Flat Iron Steak package is on sale, making this a great time to stock up on an already affordable steak selection. Each package contains four 8.5 oz steaks ready for your favorite steak marinade.

For those of you on a sugar-free ration, we're trying to make your shopping experience with us easier! We added a "Sugar Free Options" tab to our online store that has all of our sugar-free favorites in one place. We are working on revamping more of our current recipes and adding a few new ones to this category so stayed tuned!

What's in your food? These days it can be hard to tell. This short quiz caught our eye, and will make us do a double take on ingredient labels the next time we go grocery shopping. This is yet another great reminder of why it is important to stick with whole, unprocessed foods. Sometimes that is the only way to be sure of what we are consuming.
We get asked questions every week about our order requirements - what they are and why? There is now a helpful
blog post
explaining everything, and even giving you a chance to win a $75.00 US Wellness Gift Certificate. Head over to the
blog
now for a creative list of minimal order suggestions and get registered to win!
Good luck to all of our US Wellness customers playing in the Major League Baseball postseason this week! We've been rooting for you all!
Best Regards,



John, Lee Ann, Tressa, Jennifer, Amanda and Laura on behalf of the farm families of US Wellness Meats.
Toll Free: (877) 383-0051
Direct Line: (573) 767-9040





Breaking News
Restocked This Week:
*More Sugar Free Pork Bacon is expected to restock late this week*
15% Discount Code Available!
Read Dr. Al Sears' article below
Find 5-red letter code word spelled in order in article
Code active Sunday through Tuesday this week
Applies to any order under 40 lbs
Excludes any sale items, steak bundles, bulk boxes, volume discounts, gift certificates
Dr. Al Sears, M.D.
Frustrated Frazzled Addicted Insomniacs

By: Al Sears, MD



Dear Health-Conscious Reader,

In my years of practice I've seen a lot of things I would never have guessed I'd see. Like this that I heard just the other day and that knocked me back in my chair.

My new vice president L.O. came in my office for a meeting and told me, "I drove through my garage door on Saturday. Didn't even know it had..."

"Wait, go back." I stopped her in mid-sentence. "You drove through your garage door?"

"Yeah, I know. I was working out with my trainer up at the new Bally's in Melbourne and when I came home I drove my brand new Lexus right through the aluminum garage door. Then I went into my house to shower. I never knew."

Sleeping pills can make you do some pretty odd things, but this was a new one.

She said, "My husband came in and said 'What happened to the garage door?' I had to tell him I just didn't know what I was doing."

He said, 'Well, why wouldn't you know what you were doing? How did you drive through the garage door?' And all I could say was, 'I don't know, except that I took an Ambien the night before."

You might have one of these drugs meant to help you sleep in your cabinet right now ... Rozerem, Lunesta, Xanax ... Valium ... Restoril or any of the benzodiazepines...

And they're being used in millions of people.

A lot of sleep aids impair motor skills and brain function the same way heavy drinking does, increasing your chances of falling or having an accident. And as you can see from L.O.'s story, they can even give you a "hangover" the next day with "brain fog" and some serious grogginess.

There's even evidence they are increasing the incidence of cancer...

Continue Reading...

______________________________________
Editors Note: Dr. Al Sears, M.D. is a board-certified clinical nutrition specialist. His practice, Dr. Sears' Health & Wellness Center in Royal Palm Beach, Fla., specializes in alternative medicine. He is the author of seven books in the fields of alternative medicine, anti-aging, and nutritional supplementation, including The Doctor's Heart Cure. To get his free special report on the proven anti-aging strategies for building a vibrant, disease-free life, go
here
now. You'll learn how to stop Father Time without giving up the foods you love.
______________________________________________
Kelley Herring
Program Your Genes for Health with "The Forgotten B Vitamin"

By: Kelley Herring, Healing Gourmet
There is a critical nutrient that can help your body detoxify. It can help you absorb more nutrients from your diet. It can prevent fat from accumulating in your liver. It helps your cells to communicate. It can reduce stress levels. Perhaps most importantly, it can even change your genetic expression to promote health and protect against disease.
But here's the thing... you're probably not getting enough of it. And if you happen to be a vegetarian, you're almost certainly deficient in this vital compound.
In fact, according to the Institute of Medicine only 10% of Americans consume an "adequate" amount of this nutrient.
The compound I'm talking about is choline. It has also been called...
The Forgotten B Vitamin
Choline was first discovered in the 1930's. It was originally studied for its ability to prevent fat and cholesterol from building up in the liver. But that's not all choline does. Not by a long shot.
It also gives our cell membranes the ability to transfer both water-soluble and fat-soluble molecules. Without choline, lipid-soluble nutrients could not get into our cells. Likewise, waste products could not pass out. This causes nutrient depletion and toxic buildup at the cellular level.
Another unique aspect of choline is that it contains chemical structures called methyl groups. These components help cells to communicate with each other. They are also used by the body to turn genes on and off. They help produce neurotransmitters. And they have been shown to reduce inflammation and boost detoxification.
It's no wonder that adequate "methylation" within your body reduces the risk of almost every chronic illness including cancer, heart disease, depression, Alzheimer's and more.
And that's why a deficiency of choline is bad news for your health. It is a vital component of every human cell. Not surprisingly, it is also critical during pregnancy and fetal development. It has been shown to prevent birth defects (like spina bifida) and to promote healthy brain development.
But that's not the only way it helps mom and baby...
____________________________________________
Ed. Note: Kelley Herring is the Founder and Editor of Healing Gourmet - the leading provider of organic, sustainable recipes and meal plans for health and weight loss. Be sure to grab Healing Gourmet's free books - Eating Clean & Saving Green: Your Guide to Organic Foods on a Budget (includes 100+ foods at the best prices) and Eat Your Way Into Shape: Flip Your Body's Fat Blasting Switch and Melt 12 Pounds in 2 Weeks (includes a delicious 7 day meal plan!). Claim your free copies here...
Recent Health News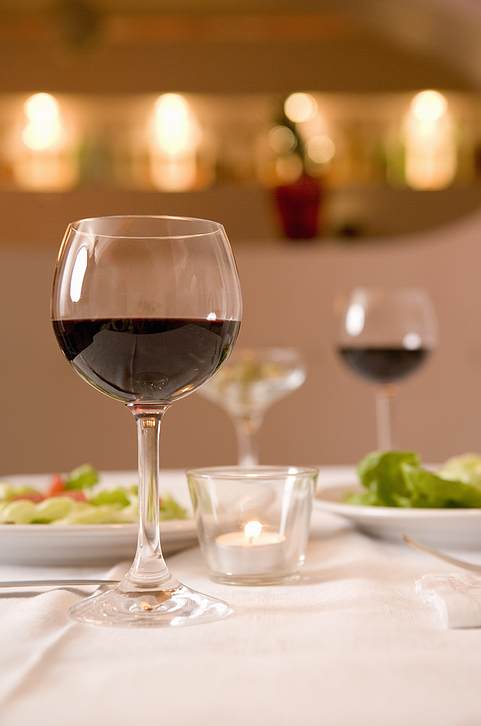 Why Wine and Tea Pair So Well With a Meal: It's All in the Mouthfeel
Of course a nice glass of wine goes well with a hearty steak, and now researchers who study the way food feels in our mouths think they may understand why that is: The astringent wine and fatty meat are like the yin and yang of the food world, sitting on opposite ends of a sensory spectrum.
The findings, reported in the October 9th issue of Current Biology, a Cell Press publication, offer a whole new definition of the balanced meal. They also offer a new way of thinking about our eating habits, both good and bad.
"The mouth is a magnificently sensitive somatosensory organ, arguably the most sensitive in the body," said Paul Breslin of Rutgers University and the Monell Chemical Senses Center. "The way foods make our mouths feel has a great deal to do with what foods we choose to eat."
It might explain the appeal of salad dressings, with their characteristic acids and oils, for example. Think also of the pink folds of ginger on the sides of our sushi plates or the soda with our burgers and fries.
The researchers knew that astringent wines feel rough and dry in our mouths. Fats, on the other hand, are slippery. There was the notion that the two might oppose each other, but it wasn't quite clear how that might really work. After all, the astringents we consume are only weakly astringent.
Breslin, Catherine Peyrot des Gachons, and colleagues now show that weakly astringent brews -- in this case containing grape seed extract, a green tea ingredient, and aluminum sulfate -- build in perceived astringency with repeated sipping. When paired with dried meat, those astringent beverages indeed counter the slippery sensation that goes with fattiness.
This natural tendency for seeking balance in our mouths might have benefits for maintaining a diversity of foods in our diet, Breslin says.
"The opposition between fatty and astringent sensations allows us to eat fatty foods more easily if we also ingest astringents with them," he says.
As an aside, Breslin adds, fresh seeds and nuts could have a certain sort of appeal. "These foods come both with their own fats and astringents in one package, so they may be self-balancing."
Cell Press. "Why wine and tea pair so well with a meal: It's all in the mouthfeel." ScienceDaily, 8 Oct. 2012.
Web. 8 Oct. 2012.
Athlete Corner - Scott Mendelson Q&A

Scott,
I have been working out for 90 minutes 4-5 times per week and I think I am starting to gain a little body fat which makes no sense to me! I also feel run down and less "manly" overall. What is the ultimate workout strategy for a guy my age at 50-year-old to lose 20 lbs of fat in three months?

Mike
________________________________________________
_____________________________________________
Customer Feedback

In regards to the recent school lunch changes:

Our school lunches did change this year, and most of them contain a protein, fruit and/or veggie. They have everything listed as Whole Grain. A slight improvement over last year. But our school has more issues with breakfasts that are offered. Either W/G Cereal or Cereal bars, or muffins. I never let my child choose school breakfast as they are the worse choices in my opinion.

Just wanted to share,

M.T.
Chicago Ridge, IL

Recipe Corner
Easy Crockpot Breakfast Pie
Ingredients:
8 eggs, whisked
1 sweet potato or yam, shredded
1 lb US Wellness Meats Pork Sausage, broken up
1 yellow onion, diced
1 tablespoon garlic powder
2 teaspoons dried basil
salt and pepper, to taste
any extra veggies you want to put in there: peppers, squash, etc.
Directions:
I greased my crockpot with a bit of coconut oil to make sure none of the egg stuck to it.
Shred your sweet potato. I used the shredding attachment on my food processor to make it super quick, but you could use a grater as well.
Add all ingredients to your crockpot and use a spoon to mix well.
Set it and forget it!! I stole that tagline. I'm gonna get sued. Eeeek.
Place on low for 6-8 hours. I cooked it for more than 7 to make sure the pork sausage was completely cooked through.
Slice it like a pie. Because I said so.
___________________________________
Recipe and photo compliments of our feature chef Juli Bauer at PaleOMG. For more paleo-friendly breakfast ideas be sure to visit her blog!
If you are a blogger or food artist and would like to see your recipes published simply email them to recipes@grasslandbeef.com.
US Wellness Cattle - Northeast Missouri

Purchasing Information
Order Minimums

All orders must weigh at least 7 pounds in order to ship, to ensure everything stays frozen during transit.
$75 minimum purchase requirement, since we have built the cost of shipping into the price of each product.
You will never be charged extra for shipping.
There is a $7.50 handling fee upon checkout.
The South Carolina Chicken Bundles, Olive Oil and cookbooks ship from separate locations, so they are not included in the 7 lb weight minimum. The shopping cart will keep track and remind you if your order is under the 7 lb limit.
Weight Discount
Receive a $25 discount for every 40 pounds you order. This offer excludes items that ship separate such as the South Carolina Chicken and Olive Oil.
This is our way of saying thank-you for purchasing in bulk!
This can be any combination of products totaling 40 pounds and does not have to be specific to any category. Each 40 pound interval will yield the discount - for example, order 80 pounds and we'll take $50 off!
Contact Info

N
eed

to change your address information or remove yourself from our customer newsletter? Click
here
and enter your email address and store password and you will be able to edit your customer file.

To unsubscribe from this email list, simply click on the SafeUnsubscribe link at the very bottom of this page.
________________________________________________
Confidentiality Guarantee:
U.S. Wellness Meats does not sell, trade or give away any subscriber information. This isn't just an ethical commitment, it's also a legal one.
Copyright © 2009 by U.S. Wellness Meats. All rights reserved. The content, design and graphical elements of this newsletter are copyrighted.
Please secure written permission of the authors before copying or using this material. Address: