Dear John,
We're basking in warmer weather here in Northeast Missouri this week. Its been 80 degrees here which is very unusual for the end of October, but we're not complaining! We've received some much-needed rain and are looking forward to another sunny week.

Turkeys are here! As hard as it is to believe - Thanksgiving is right around the corner. Luckily we've got plenty of Organic, Free Range Turkeys in stock and ready for your dinner table. Sizes range from 10-22 pounds, so there should be something for everyone! Not having turkey this year? Prime rib or pork loin also make an excellent family meal! If you have questions about buying, thawing or cooking turkeys, visit our Turkey Time blog for lots of tips!

We are having a big sale this week - our popular Tenderloin Filet Mignon steaks are on sale right now! This doesn't happen very often, so now is a great time to stock up for special holiday occasions. For more ways to stock up and save visit our Volume Discount section online.

Speaking of special occasions - what goes better with steaks than seafood? We have received numerous requests to expand our seafood selection, and that time has finally come. We are very excited to announce two new additions to our wild-caught seafood menu: Alaskan Scallops and Sockeye Salmon Burgers. Both are harvested from the icy waters off the coast of Alaska and come to us from Vital Choice. The melt-in-your-mouth scallops are of the finest quality and the burgers are an excellent source of omega-3 fatty acids and can be cooked from frozen for a quick and easy meal. For more information visit the seafood section online.

This was an exciting week for our friend Diane Sanfillipo, of Balanced Bites. Her amazing book, Practical Paleo, officially became a New York Times Bestseller! If you want to learn about the specialized meal plans and other topics covered in this book, head over to Against All Grain for a very helpful book review and a huge giveaway that is very easy to enter. There are five prize packages available, including a copy of Practical Paleo and a $75 US Wellness gift certificate. But don't wait - this contest ends today, October 28!

Congratulations to blog reader Debbie C. who was the lucky winner of the truffle sampler from Eating Evolved. If you have not tried their Bacon Truffles yet, you must do so now!

We would like to wish all of our customers and readers a Happy Halloween this week! We hope you have an enjoyable (and healthy!) holiday.
Autumn Regards,



John, Lee Ann, Tressa, Jennifer, Amanda and Laura on behalf of the farm families of US Wellness Meats.
Toll Free: (877) 383-0051
Direct Line: (573) 767-9040





Breaking News
Restocked This Week:
New Products:
15% Discount Code Available!
Read Dr. Al Sears' article below
Find 8-red letter code word spelled in order in article
Code active Sunday through Tuesday this week
Applies to any order under 40 lbs
Excludes any sale items, bulk boxes, volume discounts, and gift certificates
Dr. Al Sears, M.D.

By: Al Sears, MD



Dear Health-Conscious Reader,

I studied nutrition before I ever went to medical school.

I took classes in exercise physiology and nutrition thinking that I would be my own kind of health advisor. But I quickly figured out that no one was going to listen to me unless I got a medical degree.

But I received my medical degree years after I had already been advising people on nutrients and exercise.

Medical school taught me very little about using nutrients and herbs for healing. Even though herbs have been our only medicines for centuries and are still the first line of treatment for 80% of our planet, the modern medical establishment considers them alternative therapy.

They were included in a four credit-hour course on alternative medicine. The doctors at my medical school thought taking an herb was about as scientific as a Tarot card reading.

I knew from my experience before med school that those same "experts" were dead wrong in their complete neglect of nutrition, too.

Shortly after medical school I went back and did post-graduate work in nutrition and became licensed as a clinical nutritionist. I had to pass a very rigorous exam and I'm sure most physicians would have no idea how to pass that exam.

In fact the only other doctor I know in my field who also has that certification is Dr. Stephen Sinatra.

So you can't find many other doctors who know nutrition, and I have a long 30-year history with it. And it's a huge subject...

Knowing how complex it is and how much I had to put into it to give that kind of advice, I wouldn't trust other doctors who don't have the same experience.

You can't just take a course and call yourself a nutritionist.

In fact there's so much misinformation out there that I set aside time every week to write back to people like you who write me letters about the subject. Like what the nutrients and herbs I prescribe most are, which ones are my favorites, which ones do the most good...

Continue Reading...

______________________________________
Editors Note: Dr. Al Sears, M.D. is a board-certified clinical nutrition specialist. His practice, Dr. Sears' Health & Wellness Center in Royal Palm Beach, Fla., specializes in alternative medicine. He is the author of seven books in the fields of alternative medicine, anti-aging, and nutritional supplementation, including The Doctor's Heart Cure. To get his free special report on the proven anti-aging strategies for building a vibrant, disease-free life, go
here
now. You'll learn how to stop Father Time without giving up the foods you love.
______________________________________________
Kelley Herring
The Superfood in Your Fridge Door

By: Kelley Herring, Healing Gourmet
You know the golden goodness that tastes amazing drizzled over seafood? The delicious condiment that adds moist, rich flavor to baked goods. The one that makes just about anything taste better?

Yes, I'm talking about
butter
.

And it's time to spread the news, because golden, creamy butter is a true superfood!


Surprising, right? After all, few foods have been as wrongly maligned as this delicious delicacy.


A Pat (or Three) for Big Heart Health Benefits


For years we've been urged to limit our consumption of butter. After all, butter is fat - and "artery-clogging" saturated fat, at that.


But the truth is that saturated fats - from beef, butter or otherwise - don't promote heart disease. In fact, they may even help prevent it.


A recent study published in the International Journal of Environmental Research and Public Health evaluated over 1,700 Swedish men over a twelve year period. The researchers found that fruit and vegetable consumption was associated with a decreased risk of heart disease - but only when combined with full-fat dairy consumption.

In other words, the men who enjoyed their plant foods with full-fat milk,
butter
and cream experienced less heart disease than the men who opted for margarine, skim and low-fat milk.

There is certainly no doubt that the men who ate their broccoli enrobed in a heavenly butter bath enjoyed it more. But what is it about butter that benefits the heart?


Vitamin K2: A Nutrient for Peak Heart Health


Butter is one of the richest sources of a vital, fat-soluble nutrient called vitamin K2 (menaquinone).


While the K vitamins are best known for their role in blood-clotting, the body also requires them to utilize calcium properly. And this is a key factor, not only for bone health, but for the cardiovascular system as well.


In fact, without sufficient levels of vitamin K2, excess calcium gets deposited in the arterial wall. This is a significant factor in the progression of heart disease.

It's no wonder that numerous studies have found that a high intake of vitamin
K2 can be a huge benefit to your cardiovascular health...
____________________________________________
Ed. Note: Kelley Herring is the Founder and Editor of Healing Gourmet - the leading provider of organic, sustainable recipes and meal plans for health and weight loss. Be sure to grab Healing Gourmet's free books - Eating Clean & Saving Green: Your Guide to Organic Foods on a Budget (includes 100+ foods at the best prices) and Eat Your Way Into Shape: Flip Your Body's Fat Blasting Switch and Melt 12 Pounds in 2 Weeks (includes a delicious 7 day meal plan!). Claim your free copies here...
Recent Health News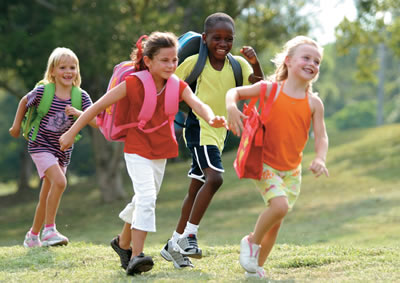 Exercise May Lead to Better School Performance for Kids With ADHD
A few minutes of exercise can help children with attention deficit hyperactivity disorder perform better academically, according to a new study led by a Michigan State University researcher.
The study, published in the current issue of the
Journal of Pediatrics
, shows for the first time that kids with ADHD can better drown out distractions and focus on a task after a single bout of exercise. Scientists say such "inhibitory control" is the main challenge faced by people with the disorder.
"This provides some very early evidence that exercise might be a tool in our nonpharmaceutical treatment of ADHD," said Matthew Pontifex, MSU assistant professor of kinesiology, who led the study. "Maybe our first course of action that we would recommend to developmental psychologists would be to increase children's physical activity."
While drugs have proven largely effective in treating many of the 2.5 million school-aged American children with ADHD, a growing number of parents and physicians worry about the side effects and costs of medication.
In the study, Pontifex and colleagues asked 40 children aged 8 to 10, half of whom had ADHD, to spend 20 minutes either walking briskly on a treadmill or reading while seated. The children then took a brief reading comprehension and math exam similar to longer standardized tests. They also played a simple computer game in which they had to ignore visual stimuli to quickly determine which direction a cartoon fish was swimming.
The results showed all of the children performed better on both tests after exercising. In the computer game, those with ADHD also were better able to slow down after making an error to avoid repeat mistakes - a particular challenge for those with the disorder.
Pontifex said the findings support calls for more physical activity during the school day. Other researchers have found that children with ADHD are less likely to be physically active or play organized sports. Meanwhile, many schools have cut recess and physical education programs in response to shrinking budgets.
"To date there really isn't a whole lot of evidence that schools can pull from to justify why these physical education programs should be in existence," he said. "So what we're trying to do is target our research to provide that type of evidence."
Pontifex conducted the study for his doctoral dissertation at the University of Illinois before joining the MSU faculty. His co-investigators included his adviser, kinesiology professor Charles Hillman, and Daniel Picchietti, a pediatrician at the Carle Foundation Hospital in Champaign, Ill. The research was funded by the National Institute of Child Health and Human Development.
Michigan State University. "Exercise may lead to better school performance for kids with ADHD." ScienceDaily, 16 Oct. 2012. Web. 19 Oct. 2012.

Athlete Corner - Scott Mendelson Q&A

Scott,
We have a beach spot vacation (St. Thomas) coming up at the start of the New Year to get ready for and we know the holiday season will be a big challenge with all of the tempting food around! Can my husband and I lose 10- 15 lbs of fat between now and then? I have seen your comments on interval sprints, but I am not able to run outside this time of year due to the weather. What are other exercise modes can be used besides running? We eat a good diet, at least compared to the average person which I know is not saying much. Any help you can provide with nutrition would be great as we both are lacking a concrete plan.

Lisa
Indianapolis, IN
________________________________________________
_____________________________________________
Customer Feedback
Recipe Corner
Crispy Bacon-Wrapped Pumpkin
Ingredients:
1.5kg butternut pumpkin, quartered
12 bacon slices
1/4 cup (60ml) olive oil
sea salt and cracked black pepper
Directions:
Preheat oven to 160°C (320°F).
Wrap 3 slices of bacon around each pumpkin quarter and place in a baking dish.
Add the oil, salt and pepper and toss to coat.
Roast for 1 hour and 15 minutes or until tender.
___________________________________
Recipe and photo compliments of Donna Hay. For more recipes, decorating and style ideas visit their website or pick up the magazine!
If you are a blogger or food artist and would like to see your recipes published simply email them to recipes@grasslandbeef.com.
US Wellness Cattle - Northeast Missouri

Purchasing Information
Order Minimums

All orders must weigh at least 7 pounds in order to ship, to ensure everything stays frozen during transit.
$75 minimum purchase requirement, since we have built the cost of shipping into the price of each product.
You will never be charged extra for shipping.
There is a $7.50 handling fee upon checkout.
The South Carolina Chicken Bundles, Olive Oil and cookbooks ship from separate locations, so they are not included in the 7 lb weight minimum. The shopping cart will keep track and remind you if your order is under the 7 lb limit.
Weight Discount
Receive a $25 discount for every 40 pounds you order. This offer excludes items that ship separate such as the South Carolina Chicken and Olive Oil.
This is our way of saying thank-you for purchasing in bulk!
This can be any combination of products totaling 40 pounds and does not have to be specific to any category. Each 40 pound interval will yield the discount - for example, order 80 pounds and we'll take $50 off!
Contact Info

N
eed

to change your address information or remove yourself from our customer newsletter? Click
here
and enter your email address and store password and you will be able to edit your customer file.

To unsubscribe from this email list, simply click on the SafeUnsubscribe link at the very bottom of this page.
________________________________________________
Confidentiality Guarantee:
U.S. Wellness Meats does not sell, trade or give away any subscriber information. This isn't just an ethical commitment, it's also a legal one.
Copyright © 2009 by U.S. Wellness Meats. All rights reserved. The content, design and graphical elements of this newsletter are copyrighted.
Please secure written permission of the authors before copying or using this material. Address: