Dear John,
Another month is flying by here at US Wellness Meats. September has brought earlier sunsets and cooler temperatures that are much welcomed after such a steamy summer. We are continuing to celebrate our 12 Year Anniversary this month and want to thank all of our customers and readers for their continued support - we wouldn't be here without you. Be sure to check out the neat Facebook Contest below for your chance to win free food this week!

According to the CDC, 17% of children and adolescents are now affected by obesity. Obese children are more likely to suffer from a wide range of health issues including high blood pressure, high cholesterol and breathing problems - among many others. With September being the month for National Childhood Obesity Awareness, we thought it appropriate to check in on the newest changes to school lunches.

Now that most schools are back in session, we have been hearing considerable feedback about the Healthy Hunger-Free Kids Act of 2010. This legislation is being put into effect this school year, and has brought considerable changes to school lunches. They are cutting out more processed foods and adding more whole grains, fruits and vegetables to the daily menus. Unfortunately they are also limiting protein and calories. We know that not all calories are created equal, and by putting a minimum on calories, we are putting a minimum on many other nutrients as well. For more information on which type of calories our body uses best, we recommend reading Dr. Al Sear's article below.

What really concerns us are the protein requirements. Children in kindergarten through eighth grade are recommended to receive a mere one ounce of protein daily! For high school kids this gets increased to two ounces. Protein is a crucial source of essential amino acids, and especially important to growing children. Have you seen any recent changes to your child's school breakfast or lunch menu? We're very curious to hear your feedback! Head over to Facebook now to leave your comments and you could win a very special kid's snack pack. In honor of our 12 Year Anniversary we're giving away all sorts of prizes this month - this week it's all about the kids - we want to know any details about the new school lunch menus and about your children's favorite school lunch. Do they eat at school or do they take their lunch? If they take their lunch please share some of their favorite choices as this may give other parent's some healthy lunch ideas!

Congrats to reader Ginny A. who was the lucky winner of last week's fat contest! She received a prize package containing some of our favorite fatty fare. Thank you to everyone who stopped by the blog and left feedback, we always appreciate hearing what you think!

Another chance to win this week - we are excited to announce the release of Paleo Indulgences, the newest cookbook from our feature chef Tammy Credicott. We were lucky enough to receive an advance copy this week and this decadent cookbook has some truly unique new recipes we can't wait to try. Bacon guacamole, paleo fish sticks and skinny mint cookies are all on the list along with some old favorites that have a new twist: Mandarin chicken, hot wings and chili! With over 85 recipes that are paleo/primal-friendly, this is a must-have addition to any recipe library. She is hosting a very generous giveaway on her website now so head over for your chance to win one of seven paleo prizes!

The challenge is back! Every year Mark's Daily Apple hosts the Primal Blueprint Challenge designed to inspire transformations to your mood, weight, health and much more. If you have ever wondered about trying the primal diet, now is the time to start. Not only will they provide support and suggestions every step of the way, but they have awesome contests and giveaways every day for the first two weeks! Visit the website now for all the details and be watching for special prizes including your chance to win $1500 worth of US Wellness Meats gift certificates!

Bacon Update! We added a new batch of the Sugar-Free Pork Bacon to the store on Friday, and will have more coming in this Friday, September 21. We appreciate your patience as we try to keep up with overwhelming demand! Since the sugar-free variety has become so popular, we will be discontinuing the Regular Pork Bacon and Regular Bacon Ends and making more of the sugar-free. If you are a fan of the regular bacon we suggest stocking up now as this will be the last batch!

The US Wellness family offers our sincere condolences to the families of the four brave Americans who lost their lives on the front line of democracy in Libya this week. Ambassador Chris Stevens, computer expert Sean Smith, and former Navy SEALs Glen Doherty and Tyrone Wood intentionally placed themselves in harms way as true patriots assisting the fledging democracy in Libya. We all need to pause for a moment and thank all of our fellow Americans in the military and government service who are at risk protecting freedom both here at home and abroad.


Best Regards,



John, Lee Ann, Tressa, Jennifer, Amanda and Laura on behalf of the farm families of US Wellness Meats.
Toll Free: (877) 383-0051
Direct Line: (573) 767-9040





Breaking News
Restocked This Week:
London Broil, Stew Beef and Chuck Roast re-stock Wednesday, September 19.
15% Discount Code Available!
Read Dr. Al Sears' article below
Find 3-red letter code word spelled in order in article
Code active Sunday through Tuesday this week
Applies to any order under 40 lbs
Excludes any sale items, steak bundles, bulk boxes, volume discounts, gift certificates
Dr. Al Sears, M.D.
The Easy Way to Drop the Fat

By: Al Sears, MD



Dear Health-Conscious Reader,

What if the central point of the entire weight-loss industry were all wrong?

Trainers and weight "specialists" tell you the only way to drop weight is to consume fewer calories or to melt more calories.

But they made a mistake. It isn't. Because they left out the most important thing: what your body does with the calories.

And your body can decide to do other things with the calories besides building fat. It's a decision your body makes depending on the environment you put it in.

And you can control the environment you put it in. One of the biggest ways is with two small words.

More protein.

Protein gives you the feeling that you're full, more so than carbs or fat. Protein boosts your sensitivity to a hormone called leptin. This hormone tells your brain that you're full. As a result, you feel satisfied. Overeating stops.

Protein is important for both losing weight and gaining muscle. A very revealing study makes a point I always try to get across to my patients: People who increased their protein intake, shed fat and gained muscle.

In fact, the people who ate a high-protein diet dropped seven pounds in six weeks. The group who followed a standard diet didn't drop any weight. And, the high-protein group simultaneously gained twice as much muscle.

Also, getting enough protein tells your body that times are good, and flips your metabolic switch from "store fat" to "melt fat." Then your body will use the calories as essential fuel to function at its best...

Continue Reading...

______________________________________
Editors Note: Dr. Al Sears, M.D. is a board-certified clinical nutrition specialist. His practice, Dr. Sears' Health & Wellness Center in Royal Palm Beach, Fla., specializes in alternative medicine. He is the author of seven books in the fields of alternative medicine, anti-aging, and nutritional supplementation, including The Doctor's Heart Cure. To get his free special report on the proven anti-aging strategies for building a vibrant, disease-free life, go
here
now. You'll learn how to stop Father Time without giving up the foods you love.
______________________________________________
Kelley Herring
Ward Off Superbugs with Three Natural Antibiotics

By: Kelley Herring, Healing Gourmet
In 1945, Alexander Fleming and two colleagues won the Nobel Prize in Medicine. They were recognized for developing penicillin as a therapeutic drug. Penicillin went on to become one of the first commercially available "antibiotics."
In the decades that have followed, antibiotics have saved countless lives worldwide. These drugs allow doctors (and veterinarians) to easily treat bacterial infections that would have been life-threatening to our ancestors. The development of antibiotics has been a huge benefit to mankind.
But there's another side to the story. Unfortunately, these powerful healing tools have been widely abused and misused. Doctors routinely prescribe antibiotics for the most minor infections. Often, they are prescribed when the patient doesn't even have a bacterial infection. And then you have conventional agriculture, which administers antibiotics to livestock as a matter of course.
The overuse of these drugs has caused a serious problem. It has directly resulted in powerful and deadly strains of microbes that are resistant to all but the most powerful drugs.
You see, prescription antibiotics don't always kill all bacteria they come in contact with. Some organisms are able to resist the drug. These "renegade" bacteria are then able to multiply rapidly, once the competition has been wiped out. Within mere hours, their numbers increase exponentially.
The result is a new dominant strain of bacteria that is "resistant" to most antibiotics. Some experts call these strains of microbes "superbugs." And they can spread from person to person, causing illness.
In fact, with every use of a prescription antibiotic there is an opportunity for resistant strains to thrive and become dominant...

Continue Reading...
____________________________________________
Ed. Note: Kelley Herring is the Founder and Editor of Healing Gourmet - the leading provider of organic, sustainable recipes and meal plans for health and weight loss. Be sure to grab Healing Gourmet's free books - Eating Clean & Saving Green: Your Guide to Organic Foods on a Budget (includes 100+ foods at the best prices) and Eat Your Way Into Shape: Flip Your Body's Fat Blasting Switch and Melt 12 Pounds in 2 Weeks (includes a delicious 7 day meal plan!). Claim your free copies here...
Recent Health News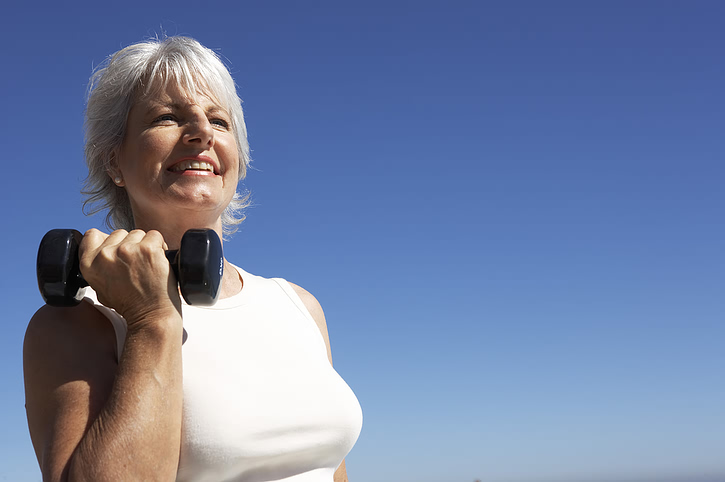 Even the Very Elderly and Frail Can Benefit from Exercise
A study carried out by Dr. Louis Bherer, PhD (Psychology), Laboratory Director and Researcher at the Institut universitaire de gériatrie de Montréal (IUGM), an institution affiliated with Université de Montréal, has shown that all seniors, even those considered frail, can enjoy the benefits of exercise in terms of their physical and cognitive faculties and quality of life and that these benefits appear after only three months.
This discovery is excellent news, as increased life expectancy has also increased the number of frail seniors in our communities. In geriatrics, frailness is characterized by decreased functional reserves in an individual, which increases vulnerability to stressors and the risk of adverse health effects. Frailty is associated with a higher risk of falls, hospitalizations, cognitive decline and psychological distress. Currently, 7% of seniors aged 65 to 74, 18% of those aged 75 to 84, and 37% of seniors over the age of 85 are considered frail.
"For the first time, frail senior citizens have participated in a study on exercise thanks to the collaboration of medical doctors at IUGM, who provided close medical supervision. My team was able to demonstrate that sedentary and frail senior citizens can benefit from major improvements not only in terms of physical function but also brain function, such as memory, and quality of life," stated Dr. Bherer.
"We hope to adapt the exercise program used in the study and make it available to the public through the seniors' health promotion centre that the IUGM is developing. We believe that by transferring our research findings to the public, we will help both healthy and frail senior citizens stay at home longer," concluded the researcher.
Research Summary:
In this study, 43 of the 83 participants between the ages of 61 and 89 years, some of whom were considered frail, took part in group exercises (3 times a week for 12 weeks), while the control group of 40 participants did not follow the exercise program. All participants were evaluated one week before the start of the program and at the end of the program for physical capacity, quality of life and cognitive health. Compared to the control group, trained participants showed larger improvement in physical capacity (functional capacities and physical endurance), cognitive performance (executive functions, processing speed and working memory) and quality of life (overall quality of life, recreational activities, social and family relationships and physical health). Most importantly, benefits were equivalent among frail and non-frail participants suggesting that there is't never too late to engage in exercise intervention programs . These findings were published online on the Web site of the
Journals of Gerontology
. This research received financial support from the IUGM's Comité aviseur de la recherche clinique (CAREC) along with the Canadian Institutes of Health Research (CIHR).

University of Montreal. "Even the very elderly and frail can benefit from exercise." ScienceDaily, 6 Sep. 2012. Web. 10 Sep. 2012.

Athlete Corner - Scott Mendelson Q&A

Scott,
I have hit a fat loss plateau again and am determined to find the best way to get rid of this last 10-15 lbs of fat quickly. My husband needs to lose closer to 20 lbs to match his "shape" from a year ago when we were on vacation and the strategies for training and nutrition are my responsibility while he does all of the yard work! I cannot do more than 4-45 minute sessions of exercise per week, but I can do whatever you suggest for nutrition. I like to have a "cheat meal" one time per week, what is the best way to do this without sabotaging my progress?
Vicky
________________________________________________
Force the Body to Torch Stored Fat
Vicky,
You guys have some good food choice habits in place with grass-fed protein choices, organic vegetable, etc., so that is great news! However, we need to adjust the strategy of your diet to make the body use more stored fat as fuel. Dr. Serrano and I call this macronutrient cycling which is a fancy term for manipulating the amounts of protein, dietary fat and carbohydrates in a strategic fashion to prevent metabolic staleness, increase fat burning enzymes and optimize the hormonal environment. You took a great approach when you started three months ago using a low carb, high protein, medium fat plan. However over time this program taught the body to use protein as an energy source instead of stored fat since protein was most abundant.
Burn That Fat - FAST!
You can lose 10-15 lbs of fat in 30 days with the right strategic changes to your nutrition plan without increasing the exercise volume or frequency. Men can hit 20 lbs of fat loss in a month so your husband will be happy to hear that as well. I did review the exercise plan and I will make some suggestions in that regard as well.
Modified Fasting Fat Loss Nutrition Plan
Dr. Serrano's modified fasting concepts for a set period of time following dinner through the next morning burn fat fast! Check out this new video Clip of Dr. Serrano explaining the concept. Energy levels will remain very high and hunger is rarely a distraction considering the ability to burn off 10-20 lbs of fat in 30 days.
Macronutrient Cycling
Now we need to shift metabolic gears by changing up food sources on specific days to achieve a necessary macronutrient percentage balance...
_____________________________________________
Email Scott@infinityfitness.com for a free copy of the KISS Rapid Fat Loss Plan, Great Guns and Ripped Abs Special Report and the Belly Fat Slashing Secrets. Check out our new blog for great tips, exercise video clips, success strategies and more. ____________________________________________
Infinity Fitness INC provides training, fitness, and nutritional information for educational purposes. It is important that you consult with a health professional to ensure that your dietary and health needs are met. It is necessary for you to carefully monitor your progress and to make changes to your nutritional and fitness program to enjoy success. Infinity Fitness does not employ dietitians or health professionals and assumes no responsibility or liability for your personal health and condition. For more information regarding our Limited Warranty for products and services, please see our disclaimer at InfinityFitness.com. Copyright © Infinity Fitness INC All Rights Reserved 2010
This document is provided by Infinity Fitness INC for general guidance only, and does not constitute the provision of health or fitness advice. The information is provided "as is" with no assurance or guarantee of completeness, accuracy, or timeliness of the information, and without warranty of any kind, express or implied, including but not limited to warranties of performance, merchantability, and fitness for a particular purpose.
Customer Feedback

First, I must give Dr. Al Sears credit for introducing me to your website with the wonderful meat products! He helped me realize that there are safe, healthy fats available. He recommended your website.

I have ordered several times and will continue to order. Living on a limited income, I have to be careful with my expenditures. I want to make the most of my money--make it go a long way to helping my husband and me live healthier lives. Buying your US Wellness Meats is the way I chose to do that. Everything that I have purchased has been incredibly good tasting, and I know that it is the best that I can purchase for us. Thank you for providing good, healthy products for us, products that include healthy fats which our bodies need.

You are a winner in my book!

Marietta B.
Defuniak Springs, FL



Recipe Corner
Spicy Pineapple Chili
1 pound bacon, cut into thin strips
2 medium onions, diced
2 bell peppers, diced
2 jalapeños, diced (seeds optional)
4 cloves fresh garlic, minced
2 pounds, grass fed ground beef
1/4 cup chili powder
2 teaspoons ground cumin
red pepper flakes (optional)
sea salt to taste
black pepper to taste
1 (20-ounce) can of diced pineapple
1 (15-ounce) can of tomato sauce
1 (14-ounce) can of fire roasted diced tomatoes
Directions:
Preheat a large Stock Pot or Dutch Oven over medium heat (You can do this in the Crock Pot as well, see notes below)
Brown your thin strips of bacon in your pan
Add in your onions, peppers, jalapeños, and garlic and continue to cook, stirring often for 5 minutes or until your onions become translucent
Now add in your Grass fed Ground Beef, chili powder, and cumin and stir until your ground beef is cooked through
Add in all your remaining ingredients, stir well, and increase heat until your chili comes to a boil
Once boiling, reduce the heat to low, cover, and simmer for 45 minutes
For the Crockpot:
Brown your bacon in a saute pan and then place in your crockpot
Saute your ground beef in the bacon fat until cooked through and then add to your crockpot with all the remaining ingredients
Cook on low for 4-6 hours and Enjoy
___________________________________
Recipe and photo compliments of Civilized Caveman Cooking Creations! For more paleo inspired fare and great giveaways check out his website! If you are a blogger or food artist and would like to see your recipes published simply email them to recipes@grasslandbeef.com.
US Wellness Cattle - Montana Mountain Pastures

Purchasing Information
Order Minimums

All orders must weigh at least 7 pounds in order to ship, to ensure everything stays frozen during transit.
$75 minimum purchase requirement, since we have built the cost of shipping into the price of each product.
You will never be charged extra for shipping.
There is a $7.50 handling fee upon checkout.
The South Carolina Chicken Bundles, Olive Oil and cookbooks ship from separate locations, so they are not included in the 7 lb weight minimum. The shopping cart will keep track and remind you if your order is under the 7 lb limit.
Weight Discount
Receive a $25 discount for every 40 pounds you order. This offer excludes items that ship separate such as the South Carolina Chicken and Olive Oil.
This is our way of saying thank-you for purchasing in bulk!
This can be any combination of products totaling 40 pounds and does not have to be specific to any category. Each 40 pound interval will yield the discount - for example, order 80 pounds and we'll take $50 off!
Customer Change Contact Info Link
N
eed

to change your address information or remove yourself from our customer newsletter? Click
here
. After opening, enter your email address and store password and you will be able to edit your customer file.
________________________________________________
Confidentiality Guarantee:
U.S. Wellness Meats does not sell, trade or give away any subscriber information. This isn't just an ethical commitment, it's also a legal one.
Copyright © 2009 by U.S. Wellness Meats. All rights reserved. The content, design and graphical elements of this newsletter are copyrighted.
Please secure written permission of the authors before copying or using this material. Address: