Dear John,
We've been under a heat wave here over the last two weeks, but Mother Nature finally blessed us with some rain this past week, which led to lower temperatures. We're now enjoying normal September weather here in Northeast Missouri.

Our good friends at Wild Idea Buffalo were the lucky hosts of the Food Network's Great Food Race this past weekend, where contestants had to cut their own lean bison meat and incorporate this heart-healthy protein into their various food trucks. Bison meat is naturally low in calories and cholesterol, and high in protein. Our Wild Idea products are 100% grass-fed and grass-finished and are raised on the range like their ancestors. If you haven't tried bison meat yet, we highly recommend giving this flavorful meat a try. The bison patties are some of our grilling favorites, and the bison stew meat is a great addition to any hearty soup or chili.

Big congratulations to one of our favorite chefs this week - Russ Crandall, author of the very popular blog: The Domestic Man, won the highly anticipated Baconpalooza bacon cook-off fundraiser last weekend! He beat out a very well respected group of participants and we were happy to provide him with some of our popular sugar-free pork bacon for this prestigious event. He posted the winning recipe for his Bourbon & Cider Braised Bacon this week if you want to try it at home!

Everyone knows somebody who has recently gone gluten-free, or discovered they have a gluten intolerance. Just a couple years ago, this was an unknown term to most. So is the gluten-free diet a fad? Or will it stick around? Mark's Daily Apple investigated the studies and reports and has some interesting information to share about the gaining popularity of the gluten-free trend as well as the associated health benefits, read all about it here.

Now is the time to stock up on 100% grass-fed and grass-finished ground beef. Our best-selling 75% Lean Ground Beef and 75% Bulk Box are on sale this week only. Ideal for burgers, stews, meatloaf, chili, tacos - the list is endless!

Thanks to everyone who shared feedback and 'liked' us on Facebook this week! We truly appreciate your suggestions and are already planning for more sales, recipes and farm photos. Be sure to check out the lamb photos below taken just this past week!


Weekend Regards,

John, Lee Ann, Tressa, Jennifer, Amanda & Laura on behalf of the farm families of US Wellness Meats.
Toll Free: (877) 383-0051





Breaking News

________________________________________
15% Discount Code Available!
Read Dr. Al Sears' article below.
Find the bold, 6-red-letter code word spelled out in order.
Code active Sunday - Tuesday this week.

Applies to any order under 40 lbs, excluding any sale items, bulk boxes, volume discounts, and gift certificates
Dr. Al Sears, M.D.
Banish Breast Cancer With This Super Nut
By: Al Sears, MD

When I was growing up in Kentucky, my grandparents had a grove of walnut trees. So...I ate a lot of walnuts. My grandmother cooked with them, baked with them, and we ate them by the handful for snacks. She always said they were good for you. How right she was.


Eating walnuts could reduce your risk of breast cancer.


One study found that extracts of walnuts stopped the spread of breast cancer cells.(1)


And with just a handful of nuts (2 ounces) a day, mice delayed the onset of cancerous tumors.(2)


Walnuts contain a trio of cancer fighters - phytosterols, omega-3s, and flavonoids.


Phytosterols. Studies show that these nutrient compounds can inhibit tumors from forming in the breast and shrink them if they are already there.(3)


______________________________________
Editors Note: Dr. Al Sears, M.D. is a board-certified clinical nutrition specialist. His practice, Dr. Sears' Health & Wellness Center in Royal Palm Beach, Fla., specializes in alternative medicine. He is the author of seven books in the fields of alternative medicine, anti-aging, and nutritional supplementation, including The Doctor's Heart Cure. To get his free special report on the proven anti-aging strategies for building a vibrant, disease-free life, go
here
now. You'll learn how to stop Father Time without giving up the foods you love.
______________________________________________
Kelley Herring
Can a Raw Diet Make You Sick?
By: Kelley Herring, Healing Gourmet
Since man first learned to harness the power of fire, we've been using it to transform our foods. And this transformation has not only helped us to advance the culinary arts, it has helped us to advance as a species.

Even in tropical regions with lush vegetation, it is estimated that humans have been cooking our foods for at least 200,000 years.

However, despite our long and beneficial history of transforming our food through cooking, certain circles believe that a "raw food diet" is the best diet for human health. Proponents of raw foods claim that "going raw" promotes weight loss, makes you look younger, improves detoxification and fights disease.

And while switching from the Standard American Diet (rife with processed sugar, artificial ingredients and man-made fats) to a diet that includes more vegetables and fruits can confer a wide range of health benefits, there is much more to the story.

Putting the Heat on a Raw Diet

It is true that high-heat cooking can destroy some nutrients (especially some of the water-soluble vitamins). Heat can also diminish certain antioxidants and damage fats, specifically polyunsaturated fats. High temperature cooking and baking can also cause dangerous compounds to form (like acrylamide in carbohydrate-rich foods, lipid oxidation products in over-heated oils and heterocyclic amines in charred meats).

However, more often than not, heat is your friend when it comes to health...
____________________________________________
Ed. Note: Kelley Herring is the Founder and Editor of Healing Gourmet - the leading provider of organic, sustainable recipes and meal plans for health and weight loss. To learn how you can save $4,400 on your groceries in the next year (including 100 Organic, Sustainable Foods on the Cheap and 15 Organic Menus for Under $5) pick up my free guide - Eating Clean and Saving Green. Click here to start saving on the healthiest foods today. Claim your free copies here...
Recent Health News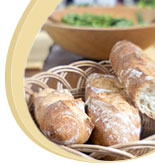 Eating Lots of Carbs, Sugar May Raise Risk of Cognitive Impairment, Mayo Clinic Study Finds


Those 70-plus who ate food high in fat and protein fared better cognitively, research showed
People 70 and older who eat food high in carbohydrates have nearly four times the risk of developing mild cognitive impairment, and the danger also rises with a diet heavy in sugar, Mayo Clinic researchers have found. Those who consume a lot of protein and fat relative to carbohydrates are less likely to become cognitively impaired, the study found. The findings are published in the Journal of Alzheimer's Disease.

The research highlights the importance of a well-rounded diet, says lead author Rosebud Roberts, M.B., Ch.B., a Mayo Clinic epidemiologist.


"We think it's important that you eat a healthy balance of protein, carbohydrates and fat, because each of these nutrients has an important role in the body," Dr. Roberts says.


Researchers tracked 1,230 people ages 70 to 89 who provided information on what they ate during the previous year. At that time, their cognitive function was evaluated by an expert panel of physicians, nurses and neuropsychologists. Of those participants, only the roughly 940 who showed no signs of cognitive impairment were asked to return for follow-up evaluations of their cognitive function. About four years into the study, 200 of those 940 were beginning to show mild cognitive impairment, problems with memory, language, thinking and judgment that are greater than normal age-related changes.
Those who reported the highest carbohydrate intake at the beginning of the study were 1.9 times likelier to develop mild cognitive impairment than those with the lowest intake of carbohydrates. Participants with the highest sugar intake were 1.5 times likelier to experience mild cognitive impairment than those with the lowest levels.
But those whose diets were highest in fat - compared to the lowest - were 42 percent less likely to face cognitive impairment, and those who had the highest intake of protein had a reduced risk of 21 percent.
When total fat and protein intake were taken into account, people with the highest carbohydrate intake were 3.6 times likelier to develop mild cognitive impairment.
"A high carbohydrate intake could be bad for you because carbohydrates impact your glucose and insulin metabolism," Dr. Roberts says. "Sugar fuels the brain - so moderate intake is good. However, high levels of sugar may actually prevent the brain from using the sugar - similar to what we see with type 2 diabetes."
The study was funded by the National Institute on Aging.

About Mayo Clinic:
Mayo Clinic is a nonprofit worldwide leader in medical care, research and education for people from all walks of life. For more information, visit MayoClinic.com or MayoClinic.org/news.
Athlete Corner - Scott Mendelson Q&A

Scott,
I would like to lose ten pounds of body fat over the next thirty days and my husband needs to drop 15 lbs from his gut. Do you have any quick nutrition tips? I control the food, but my husband is the leader when it comes to training! We both have some frontal shoulder pain when we bench press, do you have any suggestions?


Monica

_____________________________________________
Monica,
You have some good nutrition habits in place, but I see many opportunities for improvement. Here is a link to the
21 Rapid Fat Loss Tips Blog
that you can implement immediately to accelerate fat loss. I would like to see you include more grass fed beef in the nutrition plan for you and your husband to drive improved performance and fat burning.
Overall your dietary fat intake is too low, which causes problems for joints and interferes with fat burning.
Remember that good fat consumption is vital and eliminating bad fats from refined foods and commercially raised animals is crucial.
Drive Fast Fat Burning with Macronutrient Cycling
We need to adjust the strategy of your diet to make the body use more stored fat as fuel. Dr. Serrano and I call this macronutrient cycling, which is a fancy term for manipulating the amounts of protein, dietary fat and carbohydrates in a strategic fashion to prevent metabolic staleness, increase fat burning enzymes and optimize the hormonal environment for rapid fat burning...
Continue Reading...
_____________________________________________
Email Scott@infinityfitness.com with your questions and top 5 barriers to success for a personal response email response. Ask for your free copies of the KISS Rapid Fat Loss Male and Female plans, the Fat Cell Cleansing and Rapid Fat Burning Tools Special Reports.
________________________________________________
Infinity Fitness INC provides training, fitness, and nutritional information for educational purposes. It is important that you consult with a health professional to ensure that your dietary and health needs are met. It is necessary for you to carefully monitor your progress and to make changes to your nutritional and fitness program to enjoy success. Infinity Fitness does not employ dietitians or health professionals and assumes no responsibility or liability for your personal health and condition. For more information regarding our Limited Warranty for products and services, please see our disclaimer at InfinityFitness.com. Copyright © Infinity Fitness INC All Rights Reserved 2010
This document is provided by Infinity Fitness INC for general guidance only, and does not constitute the provision of health or fitness advice. The information is provided "as is" with no assurance or guarantee of completeness, accuracy, or timeliness of the information, and without warranty of any kind, express or implied, including but not limited to warranties of performance, merchantability, and fitness for a particular purpose.
Customer Feedback
I just wanted to email you and thank you for providing my family with healthy meat.

Healthy food is very scarce where I live and your business has been a true blessing to us. Can't thank you enough and I pray your business and the farmers that produce for us are extremely blessed for all of your hard work!

Sincerely,
The Nesland Family


Recipe Corner
Chimichurri Sauce Ingredients:
1 cup extra virgin olive oil
3/4 cup fresh cilantro
1/2 cup fresh Italian/Flat leaf parsley
1/4 cup fresh basil leaves
1/4 cup fresh oregano leaves
3 cloves garlic
2 Tbsp. lemon juice
1/2 tsp. sea salt
1/2 tsp. ground black pepper
Chimichurri Sauce Directions:
Place all ingredients in a food processor and blend until well combined.
Taste and adjust salt and pepper as needed.
Place in the refrigerator until ready to use.
Seasoned Bison Sirloin Steaks Ingredients:
1/3 cup olive oil
2 tsp. sea salt
1 tsp. ground black pepper
1/2 tsp. smoked paprika
Steak Directions:

Remove steaks from the refrigerator and bring the meat to room temperature (about 30 minutes).
Rub the steaks with the olive oil and season with the sea salt, ground black pepper and smoked paprika on all sides.
Place the steaks on a preheated grill and cook to desired temperature, about 3-4 minutes per side for medium-rare or 5 minutes per side for medium.

Remove from the grill and serve with the Chimichirri sauce

.
__________________________
This heart-healthy meal brought to you by our feature chef Amy Densmore from Paleo Cupboard. Be sure to visit her monthly recipe page for more unique dinner ideas. Her website is a wealth of information for any paleo fan!
If you are a blogger or food artist and would like to see your recipes published simply email us.
US Wellness Lamb - Summer Grazing
Purchasing Information
Order Minimums

All orders must weigh at least 7 pounds in order to ship, to ensure everything stays frozen during transit.
$75 minimum purchase requirement, since we have built the cost of shipping into the price of each product.
You will never be charged extra for shipping.
There is a $7.50 handling fee upon checkout.
The South Carolina Chicken Bundles, Olive Oil and cookbooks ship from separate locations, so they are not included in the 7 lb weight minimum. The shopping cart will keep track and remind you if your order is under the 7 lb limit.
Weight Discount
Receive a $25 discount for every 40 pounds you order. This offer excludes items that ship separate such as the South Carolina Chicken and Olive Oil.
This is our way of saying thank-you for purchasing in bulk!
This can be any combination of products totaling 40 pounds and does not have to be specific to any category. Each 40 pound interval will yield the discount - for example, order 80 pounds and we'll take $50 off!
Contact Info

N
eed

to change your address information or remove yourself from our customer newsletter? Click
here
and enter your email address and store password and you will be able to edit your customer file.

To unsubscribe from this email list, simply click on the SafeUnsubscribe link at the very bottom of this page.
________________________________________________
Confidentiality Guarantee:
U.S. Wellness Meats does not sell, trade or give away any subscriber information. This isn't just an ethical commitment, it's also a legal one.
Copyright © 2009 by U.S. Wellness Meats. All rights reserved. The content, design and graphical elements of this newsletter are copyrighted.
Please secure written permission of the authors before copying or using this material. Address: